Pono's mentorship program fosters in-depth, guided exploration of subjects chosen by Pono students ages six and older, allowing the children to work with experts who share their knowledge. A mentorship may last for one term or up to two years, depending on the selected topic and the scope and scale of the work the students plan to produce. Students meet with mentors on a weekly basis.
Mentorship programs at Pono have included the production and publication of The Earthsavers, an eight-chapter comic book, and a musical adaptation of the book, written and performed by the students; a songwriting program, in which students wrote lyrics and music for songs which they performed at a concert; an art and history program, in which students learned drawing techniques and historical context to draw New Yorkers affected by the Civil War; an exploration of New York's first people, slavery, immigration, and New York's role in the American Revolution, using resources from the New-York Historical Society; and a collaboration with working artists to create pieces in various media for a gallery show at Pono.

Photography Mentorship
Spring Term 2019 – Present
As part of this mentorship program, students meet with photographers to learn both the creative and technical aspects of photography. They shoot with 35mm film and digital cameras, as well as camera phones, learning about features on each type of camera. Mentors guide the students in understanding how to develop their photographer's eye, composition guidelines for framing a shot, lighting principles, and editing. The students explore narrative storytelling through photography and shooting photos based on a theme. Mentors share their own particular knowledge of various genres, including landscape, portrait, nature, food, and architectural photography. The students have also visited the Bushwick Community Darkroom, where they made black-and-white prints from negatives. Photography mentors include Barbara Birmingham, Adeet Deshmukh, Daniella Monestime, Katarina Pittis, Amy Williams, and Kimberley Wynter. The students will present and sell their work in a gallery show and fundraiser on November 2nd.
Environmental Studies Mentorship
Fall Term 2018 – Present
Westmoreland Sanctuary's environmental educators design weekly lessons that engage Pono students' curiosity for the natural world. Facilitators pose questions that guide students' investigations of Westmoreland's 640-acre outdoor classroom. Students have the opportunity to explore the sanctuary's mature forest, 8.5 miles of hiking trails, pond, and Nature Museum. Lesson topics include the local area's flora and fauna, seasonal changes, pond and forest ecology, animal anatomy, survival skills, conservation efforts, and basic chemistry. All activities strive to foster a sense of empathy for nature. Small group instruction allows students to ask questions, share observations, and recognize patterns in their natural surroundings.
Students have learned basic survival skills through building fires and natural shelters, using only organic materials found in a forest. They have done bird banding, briefly capturing wild birds, identifying their species, and recording basic data (height, weight, description), before releasing them back into the wild. Students have learned that bird banding helps to track population fluctuations, animal health, and migratory patterns. The students have participated in Cornell University's citizen science program Project FeederWatch, by keeping track of birds that visit Westmoreland's bird feeders. They have also studied animal tracking, food composting, winter tree identification, and the chemistry and physics involved in producing maple syrup from tree sap. In addition, they have explored the amphibian world, counting frogs and salamanders they caught in Westmoreland's spring pools. The Pono students are currently involved in a bridge-building project, and have begun measuring and cutting, in preparation for building on their selected site along the trail system.
Art Mentorship
Winter Term – Summer Term 2018
Pono's art mentorship program joined Pono children with artists to create artwork in a variety of media for a student gallery show. Artists included Ali Dineen, Heather Anne Halpert, Bek Millhouse, Jen Neal, Sahana Keshav Prasad, Travis Southworth, Lieh Chen Vertuoso, and David Zukas. The students worked with various other visiting artists during the course of the mentorship. Each teaching artist guided the children to create a piece that tied in with that artist's own particular body of work. For example, Sahana Keshav Prasad, a textile artist, printed a map of New York City on fabric and asked the students to embroider their favorite places on the map. Together, they created a community map that speaks of their place in the city. David Zukas, whose paintings are created on doors, invited the children to collaboratively paint their own door. He considers doors a "gateway...we must physically and emotionally pass through in order to better comprehend ourselves." The students were encouraged to consider the inspiration and meaning of the works they make.
On August 25, 2018, the students presented their artwork at a gallery in the Pono space. They sold their work, with all proceeds going to Pono's educational programs.
Art of History and Social Studies Mentorship
Fall 2017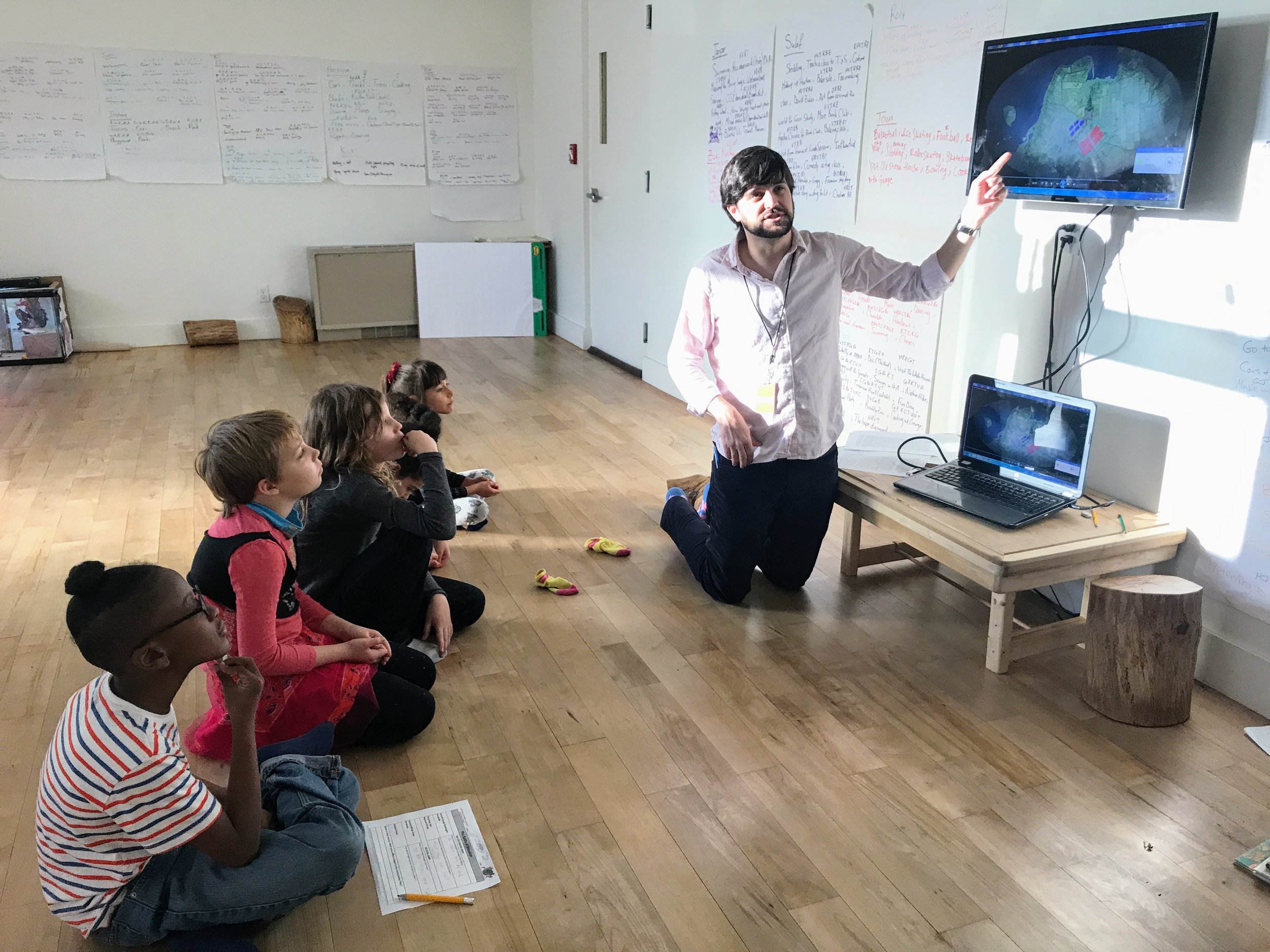 For the fall term, the students requested to learn more about history and art. The New-York Historical Society's The Art of History program integrates both of these areas, allowing children to explore New York history through art and social studies. The Pono children examined the question, "How did the Civil War affect New York City and its residents?" with artist and educator David Zukas. He instructed the children at Pono in drawing techniques, as they created portraits of New Yorkers affected by the Civil War. David encouraged the students to consider the backgrounds of the people they drew and gave them the historical context necessary for such an exercise. As part of their mentorship, the students also participated in the New-York Historical Society's Social Studies Enrichment program. History educator Paul Swartz used resources from the museum's collections to guide the children's exploration at Pono of the following topics: New York's First People, Slavery in New York, the American Revolution in New York, Immigration, and New York, the New Nation. The students gained a nuanced understanding of their city's history and of artistic expression through the Pono mentorship program.
Comic Book/ Musical/ Concert Mentorship
Summer Term 2015 – Summer Term 2017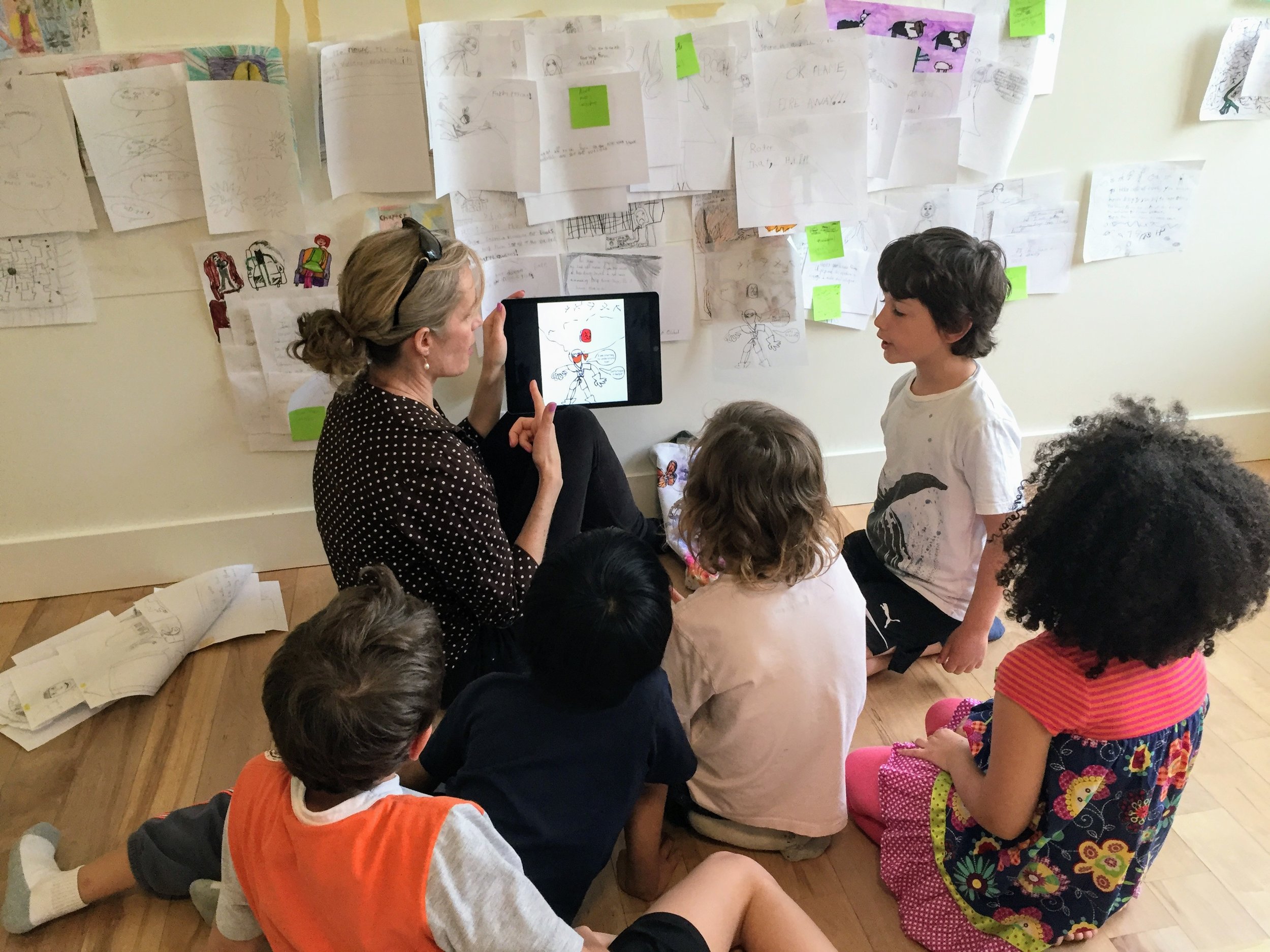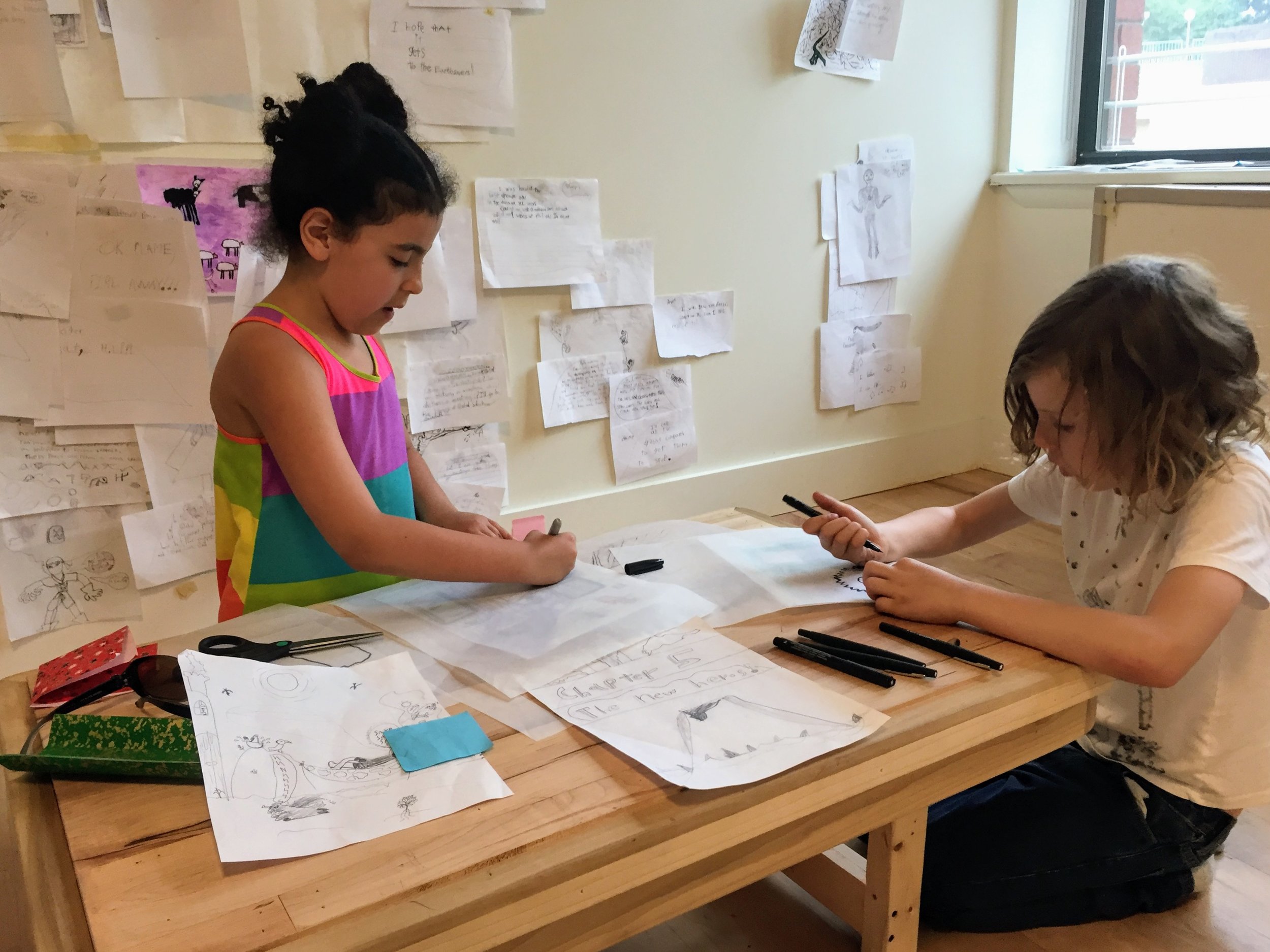 Over the course of two years, the older Pono students wrote, illustrated, and published The Earthsavers, an eight-chapter comic book. They worked with Pono's literacy instructor to write their story, and later, to adapt the book as a musical, which they performed for the public. The students also studied with working artists, who taught them drawing techniques and guided them in the points of comic book illustration. The Earthsavers is currently sold at major bookstores in New York City.
During this time, other students participated in a songwriting mentorship program. The students wrote original lyrics and melodies, as they studied with professional musicians. The instructors taught them song structure, notation, and melody, and also coached the students in vocal technique. As a culmination of the project, the students recorded their compositions for a CD and performed their songs in a public concert.