Come and Follow Me
As is so often the case, this week at Pono, art imitated life…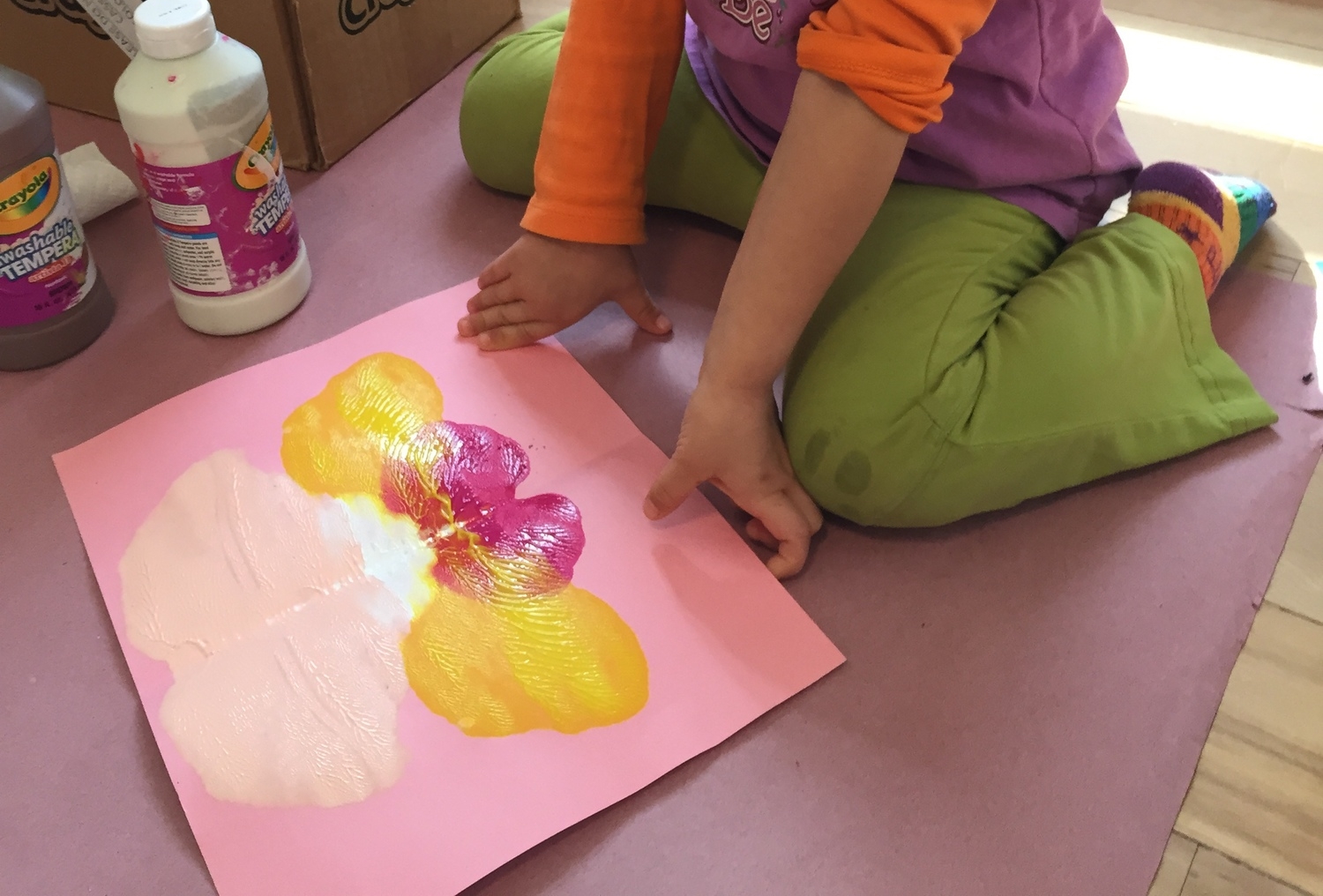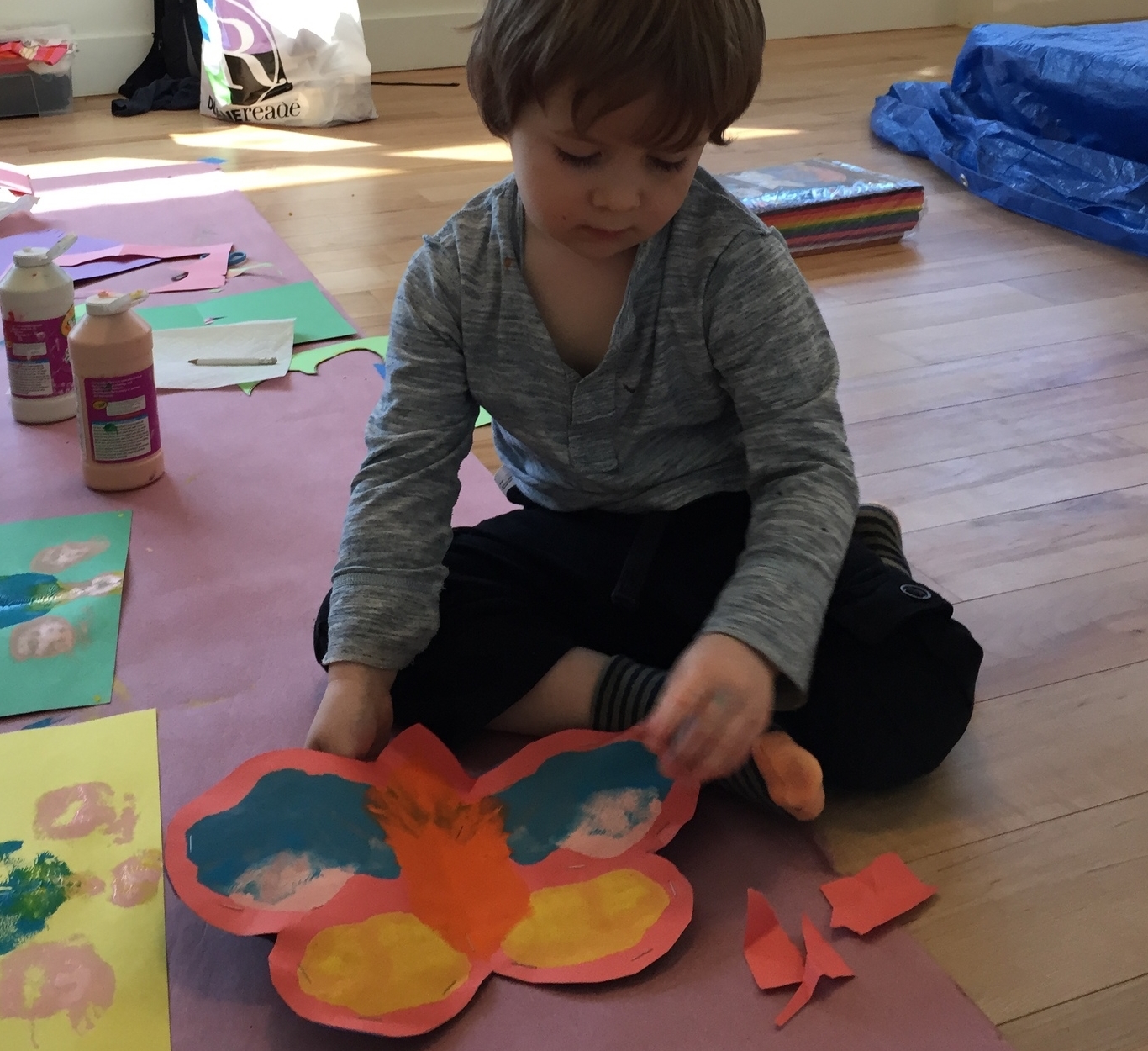 Pono friends worked fastidiously on their mosaics with Poppy. The children created complex, brightly colored designs by gluing their clay tiles onto paper – the sky was the limit. (Follow our @pono.nyc Instagram feed to see a picture of the mosaics and our Pono photo of the day!) Littlest Pono friends made 3-D butterflies with colored paper, a squirt of paint pressed onto the paper for a wash of color and crumpled up pieces of paper for the dimensional wings.
For Tuesday's art project with Poppy, the children made mosaic necklaces with crushed eggshell pieces and washes of liquid watercolors. Once the necklaces were dried, Poppy shellacked them with care, and a new fashion accessory was born! We have noticed the children proudly wearing their necklaces ever since.
This week all of the Pono friends were treated to an hour of occupational therapy with Eli, as part of the partnership between Pono and The Center for Kinesthetic Education, a program that started in January of 2014. The program, designed by the Center's founder and director, Dr. Martha Eddy, is tailored to meet the individual needs of Pono students using neurodevelopment screenings, which are translated into specific OT goals and tasks to develop motor skills.
For this class, the children used their imaginations, and their muscles, to move across the floor like underwater animals. Then they moved as land animals and even birds. When Eli asked the children which animal they liked pretending to be the most, Zoë replied, "A human!"
Meanwhile, Back at the Ranch…
This week, cooking and math with Mufeeda and Maysaa involved the art and joy of making popcorn. Working with corn kernels helped everyone understand the concept of big numbers. Large numbers just don't feel so theoretical when the stakes involve a big bowl of popcorn to not only count, but to snack on, too!
Pono believes so strongly in play-based learning that every daily activity at school is centered around it. When children arrive in the morning, they can play at different stations set up to encourage tactile imaginative play. Evan likes the station with baskets of natural wooden blocks, coconut shells and pinecones because the pinecones remind him of décor at home. Bodi loves to cook for all of his Pono friends (Perhaps he's following his dad, George's lead!). The kids move freely throughout the downstairs rooms guided by their own interests.
Speaking of recreation, outdoor play was accented by all of the recent snowfall. Every day, the children had the option to put on their snow gear and take a wintery walk to the playground and surrounding area inside Marcus Garvey Park to crunch through the snow, build powdery structures or make snow angels, but of course!
Dr. A brought her collection of "things in jars" to illustrate a lesson in evolutionary biology. She invited the older children to make a line of jars, from the simplest organisms to the most complex. The little ones sorted the jars into things that live in the ocean and things that live near Pono.
Here We Go, Pono, Here We Go…
Wednesday, we piled onto the subway all the way to Park Slope to visit the historic Old Stone House. Miss Maggie greeted us in full colonial clothing and attitude and taught us about life for children in 18th-century Dutch Brooklyn. The children traveled back in time to the early 1700s and learned about the usefulness of wooden clogs, how to weave, churn butter and the pleasures of relaxing with a game of Rota, an early derivation of tic-tac-toe.
After working up an appetite from table bowling and ring toss, the children ate butter they had churned themselves by determinedly shaking a mason jar of cream. Miss Maggie offered corn muffins, too, but some of us preferred to eat the butter straight up!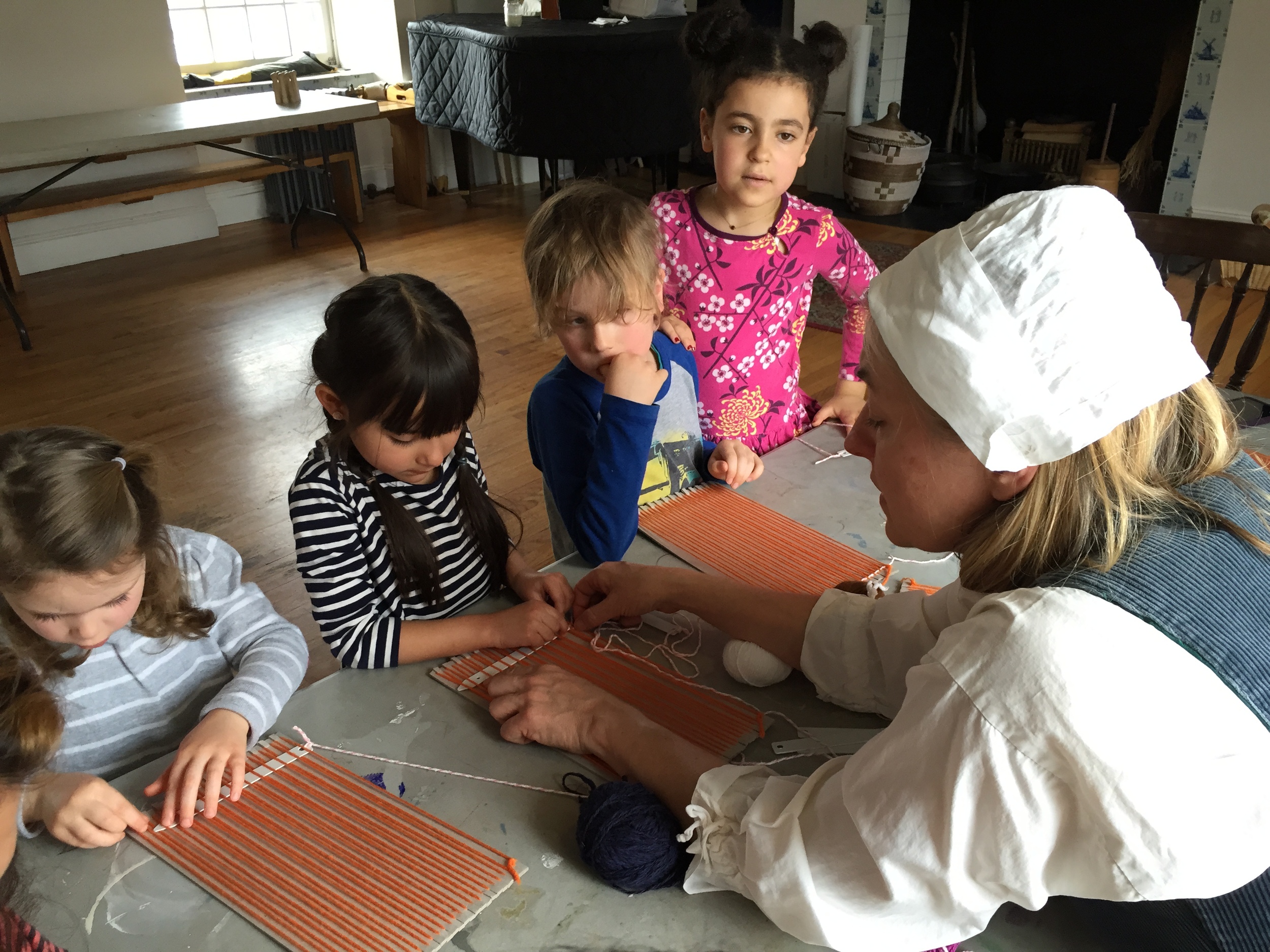 The show is really coming together, you guys! Sulaf, Zoë, Roly, Towa, and Olivia painted scenery with Poppy on Friday. Towa's dad, Kuni brought his keyboard so that the Pono players could practice their songs to his accompaniment.
Pono Says Hello
Pono continues to reach out to the community with event-based activities to welcome our neighbors and local families, as well as enrich our current families' Pono experience.
This week we launched our program First Friday Flicks with a family-friendly movie and gourmet popcorn. Willy Wonka and the Chocolate Factory enthralled children and adults alike, and handmade flavored popcorn and fruit smoothies made us feel like we had won a trip to Wonka's famed factory. We didn't have golden tickets, but our concession stand offered colorfully wrapped chocolate eggs. Two lucky filmgoers, Olivia and Jasper, removed the tissue paper to reveal a golden wrapper and received a prize. First Friday Flicks is off to a sweet start!