We started the last week of winter term with a splash at New York Sports Club. Swim instructors Rad and Jermaine led the children as they practiced kicking, blowing bubbles, floating, and making "spoons" with their hands for proper arm strokes.
During free play, the children swam after bobbing rubber duckies and lined them up on their kickboards. They literally had all their ducks in a row!
Meanwhile, Back at the Ranch…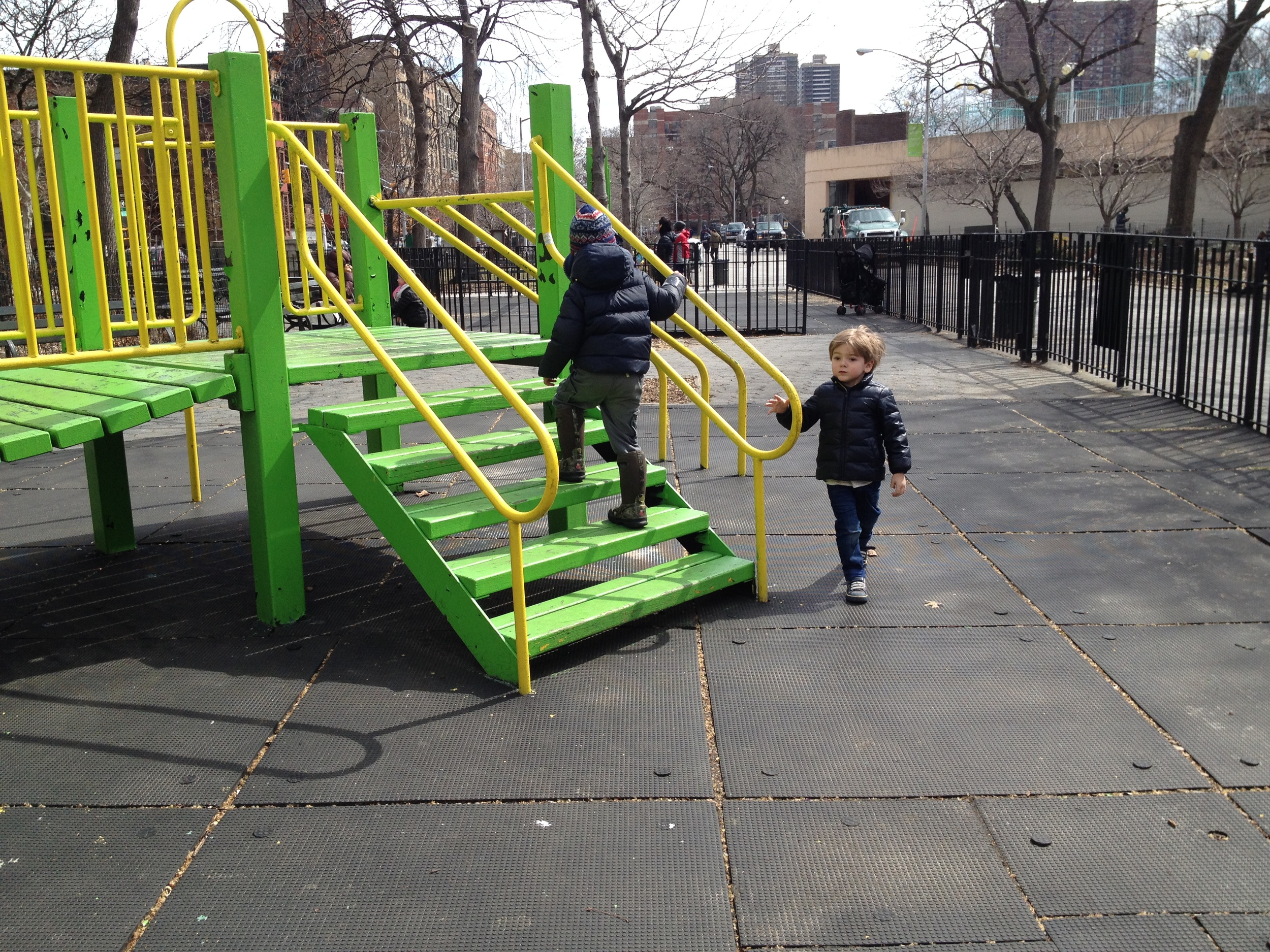 Tuesday's math and cooking lesson featured a healthy green smoothie, perfect for St. Patrick's Day! Maysaa guided the children in identifying the fractions that went into the recipe, and everyone helped count the ingredients and put them in the blender. It all added up to something delicious! During lunch Julietta read a story penned by a Pono mystery author. Everyone listened attentively to the action-packed adventure and then Roly revealed himself as this week's featured writer! That afternoon Oswaldo, a favorite Pono visiting teacher, spoke to the children about ancient Egypt and Greece. Spring was in the air that day and during outdoor play Elvin gathered leaves into a lovely bouquet.
Samantha the Fairy fluttered by for a visit on Thursday, and she and Lila leaned in and gently bumped foreheads in a traditional fairy greeting. The children had numerous questions about Mountain Fairyland and Samantha's life as a fairy in NYC.
Jasper asked her about fairy footwear, and Samantha informed him that she wears boots all of the time. Samantha sprinkled the children with fairy dust, and throughout the day they could be found checking their shoulder blades for budding wings.
On Thursday afternoon we all met to discuss the children's interests for spring term. It is exciting to see democracy in action as the children share and vote on visiting teachers, field trips, and lesson ideas! Based on the meeting, our next term is going to be filled with adventure, discovery, and imagination. Volcanoes, ballet, storytelling, and robots, anyone? Maysaa and Kate are looking forward to planning the calendar! We welcomed Izumi and her daughter, Milai, who will be joining Pono in April. Thank you to Sheri for leading us in a spontaneous dance break to keep our creativity flowing and to Bodi for showing us his cool moves!
Here We Go, Pono, Here We Go…
On Wednesday we boarded the Metro-North to Norwalk, Connecticut, for a trip to The Maritime Aquarium. During the train ride, Zoë, Towa, Roly, and Sulaf befriended two of their fellow passengers and regaled them with songs and stories from the Pono musical, "When Times Get Tough." All the world's a stage for the Pono players! A highlight of the aquarium for many of the children, and not a few adults, was the touch pool, where we could safely pet graceful rays as they glided by. Hinako discovered the Intertidal Touch Tank, where she and other friends touched animals typically found on the Long Island Sound shoreline, including a sea star and a horseshoe crab. Takota especially enjoyed watching the acrobatic river otters. Pono friends gathered at lunchtime to sing "Happy Birthday" to Evan, who had chosen this outing as his birthday trip. Best wishes to Evan on turning five!
A big thank you to the families who are caring for the Pono pets over the spring holiday. We hope everyone enjoys the break.
See you in April!