Read on to find out why we're excited about our fall term at Pono!
Come And Follow Me...
The sound of the singing bowl and the scent of rose water signaled the start of another class with dancer Sayoko Lale Williams. Sayoko led the older students in fluid, creative movements. The children especially enjoyed dancing as "ocean spirits" under a billowing blue scarf.
Artist and illustrator Bek Millhouse spoke to the younger children about texture. After a demonstration, the children used crayons to rub over objects they placed underneath paper to create patches of texture, a technique called frottage. The children used items Bek had brought in and also delighted in capturing textures they found in the Pono space.
Pono parent and yoga instructor Eric Stoneberg led the children in meditative practice in Marcus Garvey Park. He encouraged them to walk slowly and mindfully through the park and to focus on their movements.
Dr. A and the younger children put on their science hats and examined a dried sunflower. They described the parts of the flower and discussed why some seeds were larger than others. The older children also enjoyed seeing this specimen before continuing their physics study of gravity, inertia, and force.
This week Bek Millhouse and the older children studied examples from art history of illustrated hand lettering. Bek invited the students to select a letter and fill it with designs. She demonstrated a quick design process from thumbnail sketches to a more refined and larger "working rough." The children used pencils and markers to generate these initial designs, prior to painting.
Meanwhile, Back At The Ranch...
Madelyn and our littlest Pono friends put the finishing touches on their birdhouses and made bird feeders with pinecones, peanut butter, and chia and sunflower seeds. The children sampled the ingredients, so they're confident the birds will approve! They hung their creations in Marcus Garvey Park; we're sure our local feathered friends will enjoy their colorful new homes and tasty snacks!
The younger children and Madelyn germinated seeds for planting later in the term. They filled an egg carton with soil, and planted and watered their seeds. They also decorated containers they'll use when their plants are ready for a bigger space. Beautiful things are growing at Pono!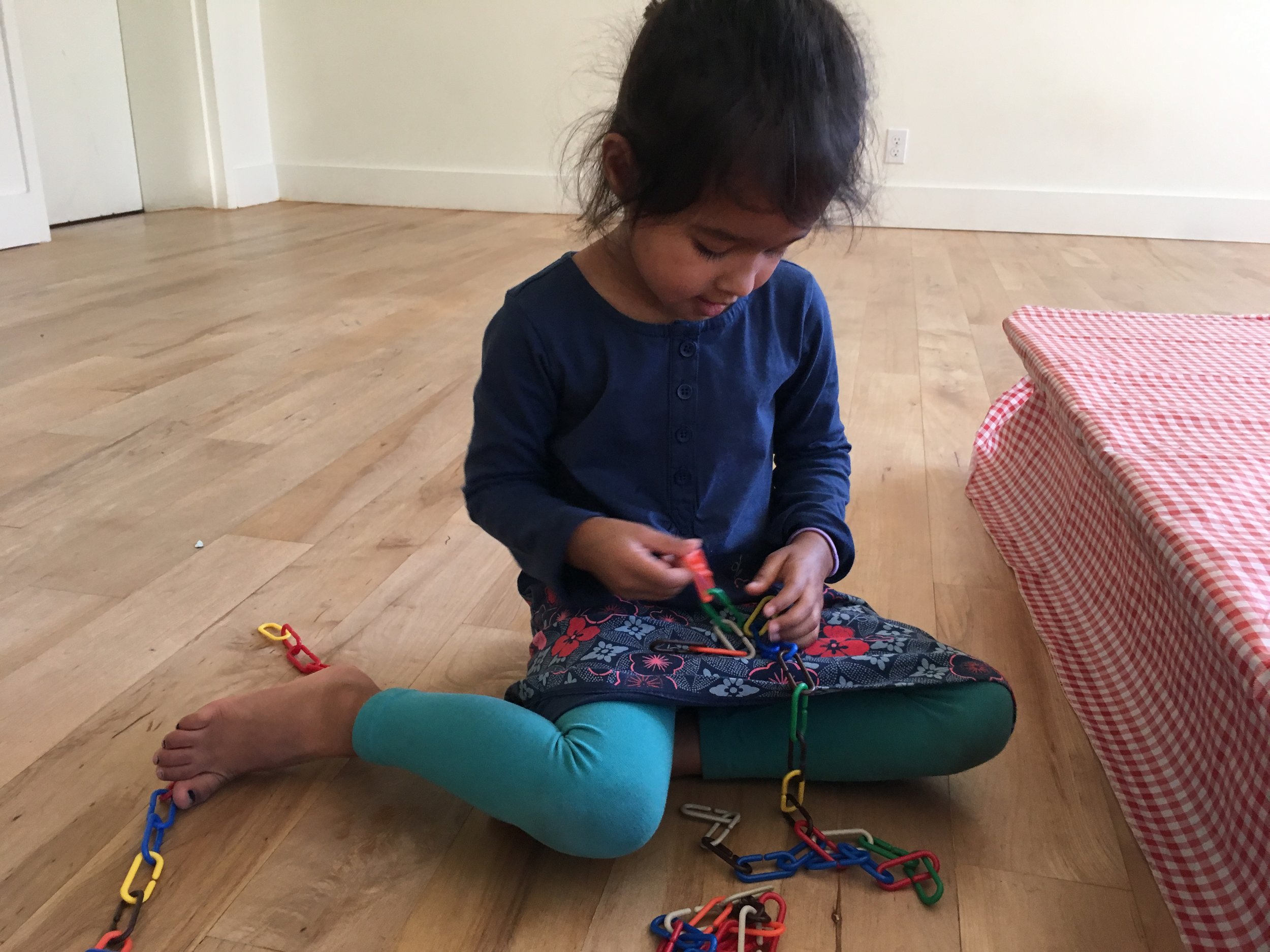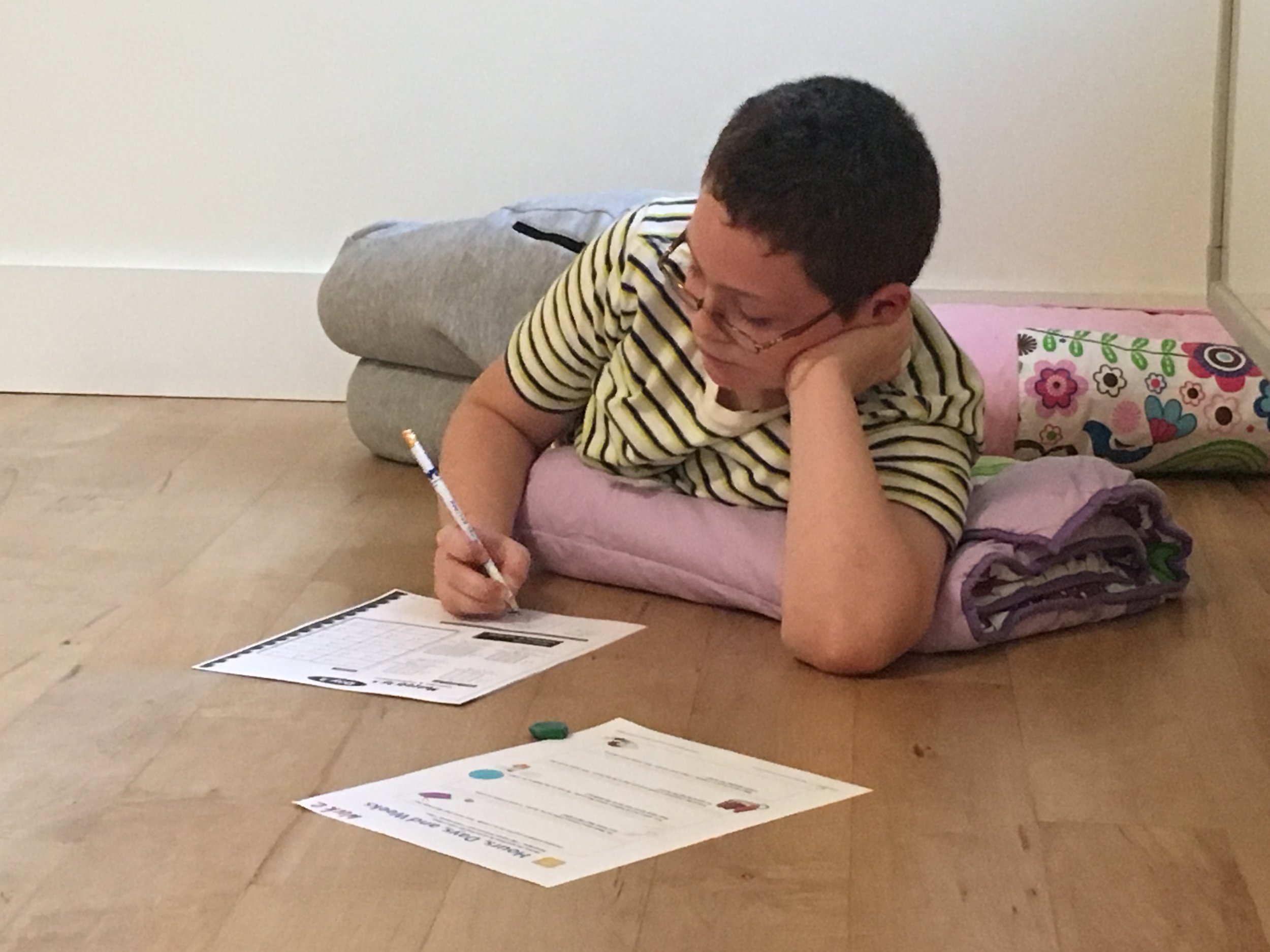 This week in math with Maysaa our youngest Pono friends played with connecting links as they practiced counting to twenty. The middle group worked on the concept of equivalence and hierarchical inclusion within the context of selling boxes of apples. Our oldest students continued to lay the groundwork for learning algebra, as they analyzed equations and solved for unknowns.
Madelyn and the younger children examined different types of seeds and then headed to Marcus Garvey Park to collect acorns and double samaras, or "whirligigs." They used these treasures to make whimsical designs on construction paper.
This week in literacy with Julietta, our youngest group applied their word identification and new punctuation skills to write their own I See book. Come read it with us next week!
Some of our older students created a tricky I Want book, featuring the words want, yellow, and purple. They also played various sensory games with digraphs. Other students enjoyed starting their latest book club title, Charlotte's Web. They all reviewed and learned more about when to double consonants before vowel suffixes and had the chance to apply this and other spelling information in their word study books.
Kate and the young Pono amigos reviewed vocabulary for parts of the body en español and learned new terms as they played several rousing games of Bingo!
Our Pono pets, Emma and Tiddles, receive lots of attention and care from the children!
Here We Go, Pono, Here We Go...
This week we celebrated young Pono friend Roly's birthday with a trip to Cornerstone Pottery, a ceramics studio cooperative in Washington Heights. Instructor Kateh Esmaeli led the children in a hand building class and encouraged them to make creatures, real or imaginary, that hatch from eggs. The children's creativity quickly took shape, and they applied colorful glazes to their designs. Kateh will fire the students' work in the kiln…we look forward to seeing their finished creations!
After our trip to Cornerstone Pottery, we had time to explore the Hudson Heights neighborhood of Washington Heights and beautiful Fort Tryon Park. We strolled through the Heather Garden, making sure to stop and smell the roses, enjoyed magnificent views of the Hudson River, stopped for a photo op at artist Matthias Neumann's bench V (basics), and played in Jacob K. Javits Playground. A perfect autumn afternoon!
The Friday Focus group had a chemistry lesson with Dr. Sandy Chen and tested chlorophyll from various colored leaves. They mixed solutions with ethyl alcohol and leaves to make samples to test on chromatography paper (coffee filters). The students determined what color the chlorophyll absorbs and its Rƒ value, or the distance traveled by the pigment relative to the solvent, and studied the chemical formations of the different chlorophyll strands.
Our songwriting group met with singer and musician Ali Dineen, while the comic book group reviewed their drawings with artist and illustrator Bek Millhouse. Pono is an incubator for creativity and focused study!
Pono Says Hello...
This week Pono held its committee and community meetings. The most exciting item on the agenda: the upcoming launch of the Pono documentary! Stay tuned!